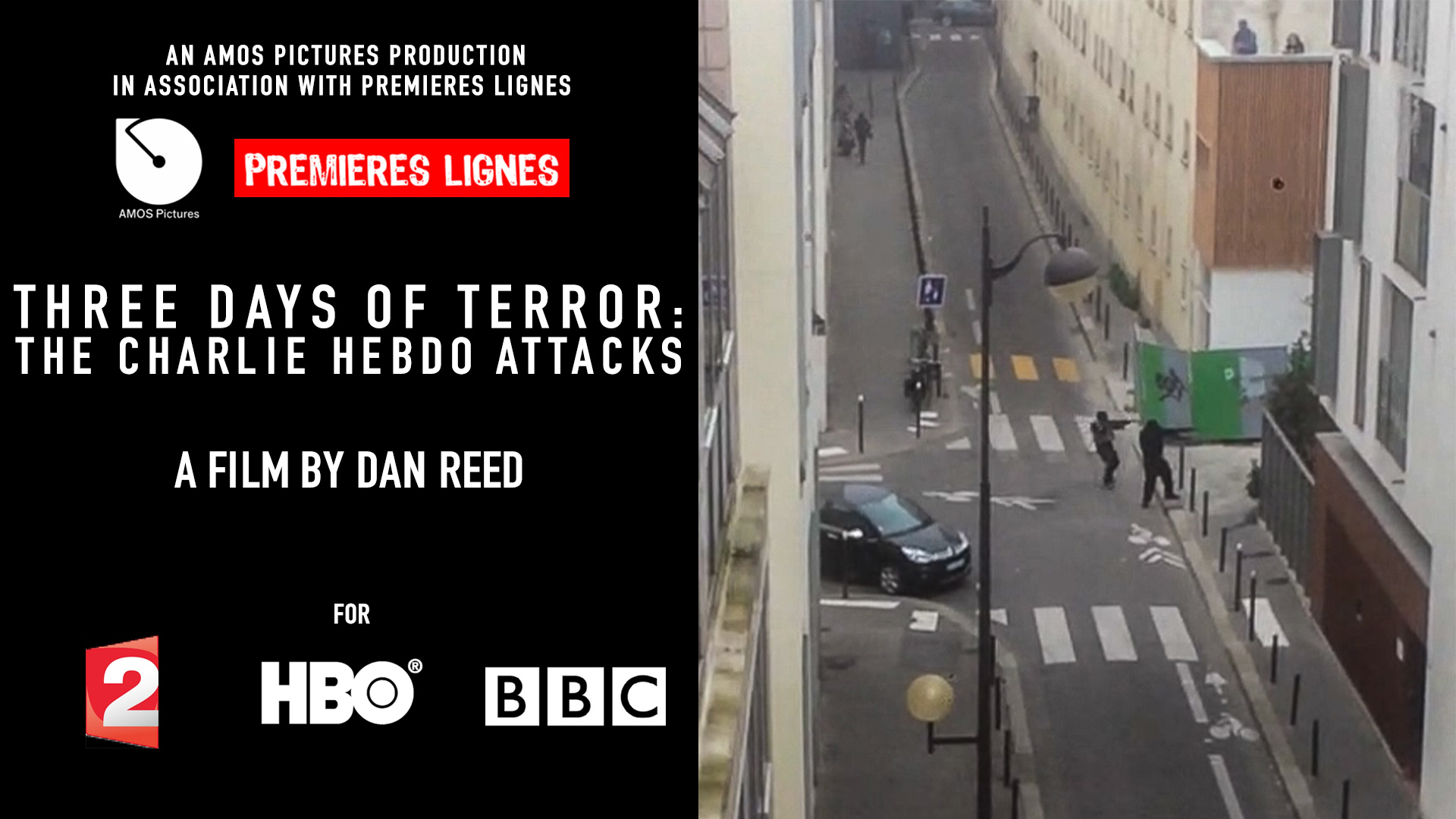 Three Days Of Terror: The Charlie Hebdo Attacks
A resounding documentary for BBC, France 2 and HBO
A film by Dan Reed
January 6 2016 on BBC2
January 7 on FRANCE 2
Soon on HBO
Amos Pictures in association with Premières Lignes for HBO, BBC and France 2
Watch the TRAILER
In January 2015, the attacks that occurred in Paris against satirical newspaper Charlie Hebdo and a kosher grocery store shook France and the whole world. A year on, with unprecedented access to the French authorities and previously unseen footage, director Dan Reed reveals the untold story of the massacre. Key witnesses, police officers and survivors – many speaking for the first time – piece together the dramatic attacks and the subsequent man-hunt that gripped the world for three horrifying days.
Dan Reed who already directed several documentaries on terrorist attacks in Moscow, Mumbaï and Nairobi, contacted TV producer Luc Hermann, whose company Premières Lignes has its office at the very same floor as Charlie Hebdo's, to collaborate on this challenging and so necessary film. The team of Premières Lignes – which is the French for "Front lines" – experienced the attack, indeed, to the closest. Luc Hermann immediately accepted to join Dan Reed's project.
If many striking images have been overhyped and will certainly be remembered, the precise time line of these tragedies hasn't been told yet. After a long-run investigation and a tremendous amount of work, this film is an outstanding and responsible account of what happened during these 54 hours of terror.
We meet first-hand witnesses such as the head doctor of the firemen brigade who entered first into Charlie Hebdo's office after the massacre. Or this German tourist whose fate got randomly related to the Kouachis' itinerary as they stopped off for snacks at a gas station. This public officer tells the hand fight he had against Coulibaly right after a young and unarmed municipal police officer had been shot under his eyes. Or several survivors from the kosher grocery store hostage taking.
Dan Reed's powerful and subtle narrative is based on hard facts, meticulously reported through loads of footage he examined with surgical attention and exclusive testimonies he collected with all due respect to the victims and witnesses.