L'ÉVADÉ : l'ÉTRANGE AFFAIRE CARLOS GHOSN sur Netflix
Un documentaire Netflix produit par PREMIÈRES LIGNES avec VESUVIUS PICTURES
réalisé par Lucy Blakstad
Producteur exécutif : Paul Moreira
Comment, après avoir été l'un des PDG les plus respectés de l'industrie automobile, se retrouve-t-on incarcéré au Japon ? Comment s'évade-t-on dans une malle pour devenir un fugitif visé par un mandat d'arrêt international ?

Réussite, orgueil, argent, paranoïa, ce documentaire revient sur l'ascension et la chute de Carlos Ghosn, racontées par les acteurs au cœur de cette folle histoire.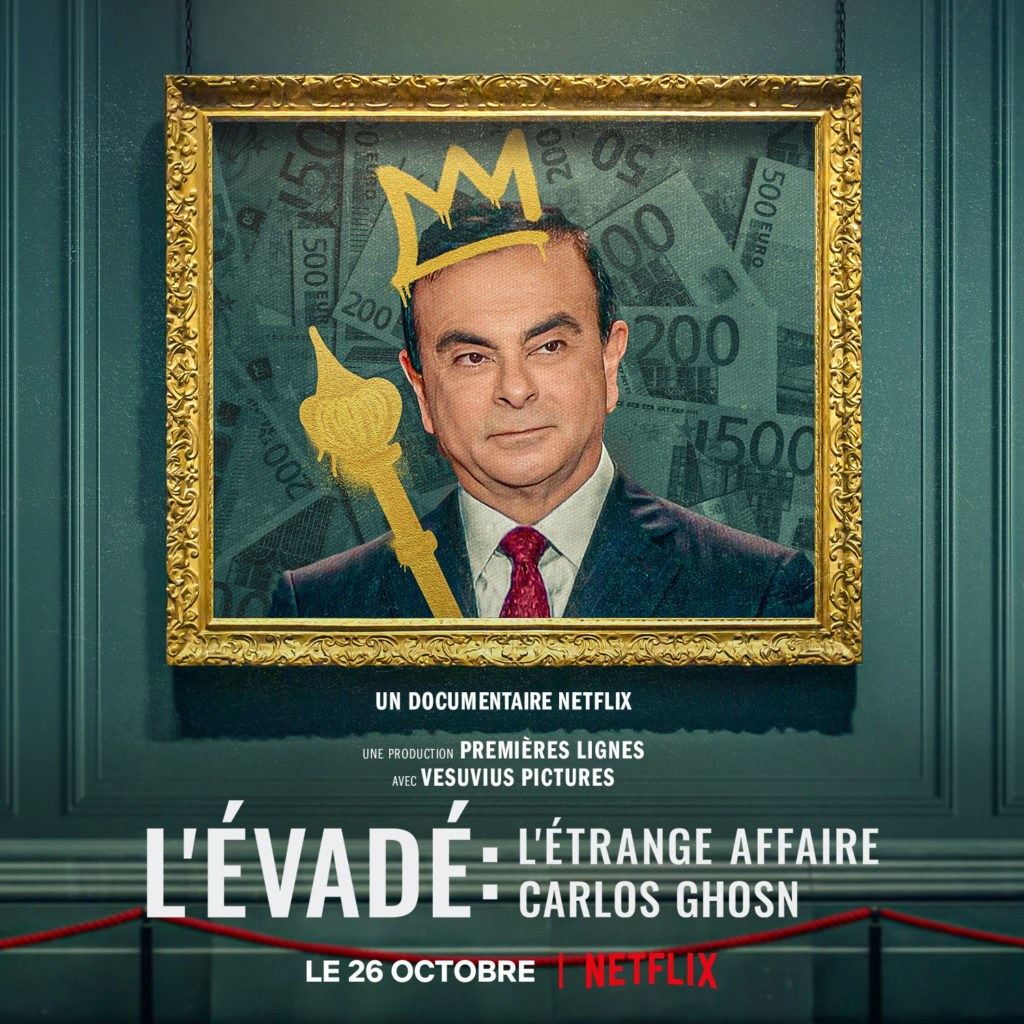 How do you go from being one of the most revered CEOs of the car industry to being jailed in Japan, escape in a box and end up a fugitive with an international arrest warrant?
This story is told by Ghosn's closest collaborators and relatives. Success, hubris, paranoia, and the dark secrets behind his rise and fall. A tale of our times.
A feature documentary chronicling the meteoric rise of the star of the auto industry, internal rivalries, tensions he sparked within the Nissan-Renault Alliance that led to his dramatic arrest in Japan, imprisoned as an alleged criminal, to being an international celebrity fugitive after his surprised escape.
A global investigative film with a team of talented journalists from France and Japan to ensure insights – coupled with award-winning UK director with a great mix of journalism and cinematic ambition.
Carlos Ghosn was running two auto companies he helped revive, France's Renault and Japan's Nissan. His escape from Japan in December 2019 in a large box that was hauled onto a private jet stunned the world. Beyond the feat lies a tale of our times. A gripping story where politics, power, ambition, and greed collide. The fall from grace of a tycoon. As Ghosn became the focus of the world media, some dark secrets about his past came to the surface.
With interviews of key stakeholders with front-row seats both in Europe, Middle East and Japan including Louis Schweitzer, former CEO of Renault who hired Ghosn; Hiroto Saikawa, Ghosn's designated successor at Nissan; Patrick Pelata, former chief operating officer of Renault; Greg Kelly, former representative director of Nissan; Ravinder Passi, former global general counsel of Nissan; Andy Palmer, former COO of Nissan; Nayla Beydoun, Carlos Ghosn's sister and many more.
The documentary also tells the inside story of the preparation of the astonishing escape and includes exclusive pictures of the extravagant lavish party at the Chateau de Versailles.
The film also includes the rare testimony of the widow of one the three Renault employees who committed suicide in 2007 as the strain was so intense on the work force to meet the challenges set by Carlos Ghosn's executives. Renault was sanctioned by French Courts.
And new details about Ghosn's private police at Renault which mistakenly believed in 2011 they had uncovered a spy network stealing secrets for China. Ghosn desolately admitted a mistake and sacked his number 2.
Potential embezzlement and hidden payments for his personal benefit, use of corporate jets, private residences in Lebanon and Brazil paid by Nissan, a 37-meter yacht… the Japanese and French justice have issued arrest warrants against Carlos Ghosn as part of their respective investigations for financial malpractice, misuse of corporate assets, money laundering and corruption.
Carlos Ghosn declined to be interviewed for this documentary.
He remains a fugitive in Lebanon and continues to claim his innocence in all cases for which he is accused.