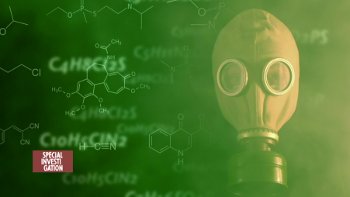 Chemical Weapons: Made in Europe
A film by Jean-Baptiste Renaud
First broadcast June 16, 2014 on canal+
Amateur videos show police in Bahrain shooting gas grenades into houses – a practice banned under international law. As the houses fill with suffocating tear gas, seniors and children die first. At least 39 people are known to have died like this – a small figure in comparison to the 1,400 Syrians killed by Sarin gas last summer. But both attacks shared one thing in common: the chemicals were later traced back to Europe.
As western democracies are outraged by the use of chemical weapons – a crossed line since World War I -, this investigation reveals their hypocrisy. The Syrian regime bought chemicals from the UK, Germany and most probably, France. In Irak in 1988, Saddam Hussein slaughtered civilians in Halabja using chemical weapons. French companies have a responsibility in this massacre.
This investigation goes worldwide to reveal how Bashar Al-Assad, the dictatorship in Bahrain and Saddam Hussein were all able to buy all needed ingredients to make "DIY" chemical weapons prohibited by the international community.