producer, film director, author, journalist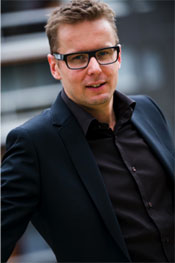 Luc Hermann is a producer, film director, author and journalist.
He is the president of Premières Lignes, a independent documentary production company based in Paris. He has produced over 200 investigative documentaries with prominent directors for major networks including Netflix, France Télévisions, Arte (France / Germany), Canal+, HBO, BBC 1 (Panorama programme) (UK), Discovery Networks (USA), RTBF (Belgium), RTS (Switzerland) and he has organized international partnerships with the International Consortium of Investigative Journalism (ICIJ) to  contribe to major breaking investigations including LuxLeaks, the Panama Papers and the Paradise Papers.
He is a also a film director(selected filmography below).
Luc Hermann started his career as a journalist and associate producer in the United States, where he worked at CNN International for 2 years. Then he worked for 18 years at French network Canal + as international reporter and film director.
From 1999 to 2006, he co-directed with Paul Moreira the investigative programme "90 minutes".  A key programme that impulsed the emergence of a new investigative journalism in France. At this time, Luc Hermann investigated large companies on very sensitive subjects such as the controversial Total's gas pipeline in Burma or Pfizer's marketing of a an antidepressant drug for kids. He also directed several documentaries decoding spin doctors' strategies during the wars in Kosovo and in Iraq.
Together with Paul Moreira, he is since 2004 at the head of a French freedom of information act (FOIA) campaign, aimed at lobbying French politicians. The "Liberté d'Informer" campaign has organised numerous debates at universities and at the French Natioanl Assembly, and received the support of hundreds of French journalists, elected officials, lawyers. To date, more than 6,000 signatures have been submitted to the campaign's website, www.liberte-dinformer.org.
In September 2009, Luc Hermann joined his former Canal + colleague Paul Moreira to develop Premieres Lignes agency. His arrival gives it a great boost. Putting together a team of talented independent film makers and investigative reporters, he produced over 50 audacious and multi-awarded documentaries for all major French networks: Arte, Canal+, France 2, France 3, France 5, and France 4.
Luc Hermann pioneered the production of creative and innovative formats with the help of talented journalists, writers, IT specialists and graphic designers. Linking TV-aired documentaries to interactive web developments offers a much enriched viewer's experience. Lately Luc Hermann directed a 2-episode documentary on soft power games and spin doctors' strategies "Jeu d'influences". The TV broadcast was associated with an online game where the viewer could put himself in a spin doctor's shoes and experiment the perception management of crises. The series received multiple awards and distinctions. He also published an eponymous book.
Luc Hermann is often invited on French radio France Inter as a columnist sharing his analyses and decoding of political or corporate spin. He's also an advisor at the London Center for Investigative Journalism and a regular speaker at Lille School of Journalism (ESJ), at the London City University investigative journalism summer school and at the African Journalism Investigative Conference in Johannesburg.
Selected filmography
Big Pharma, gaming the system (in production), codirected with Claire Lasko, co-écrit avec Insaf Maadad, Arte, RTBF, RTS, RSI
Starbucks unfiltered, codirected with Gilles Bovon, Arte, RTS, RSI, RTBF, ZDF

Jeu d'influences, co-réalisé avec Gilles Bovon, France 5, LCP, 2014

WikiLeaks : la guerre contre le secret, co-réalisé avec Paul Moreira, Arte, LCP, 2012

La crise des subprimes, France 2, 2008

Sarkozy v.s. Royal, la guerre de la communication, France 2, 2007

Peut-on repérer la délinquance dès la maternelle ? Canal+, 2006

Dieu contre Darwin : le lobby Adam et Eve, Canal+, 2005

Irak : la guerre des propagandes, Canal+, 2004

Comment l'industrie agro alimentaire fabrique des obèses, Canal+, 2003

Attentats du 11 septembre : pouvait-on les empêcher ? Canal+, 2002

Antidépresseurs pour enfants : la fin d'un tabou, Canal+, 2001

Vache folle : guerre des tests et insécurité alimentaire, Canal+, 2001

Kosovo : comment on nous a vendu la guerre, Canal+, 2000

Total en Birmanie : l'autre scandale, Canal+, 2000

Sida : le grand business des laboratoires, Canal+, 2000

Honduras : un an après le cyclone Mitch, Canal+, 1999

Je squatte la télé, Canal+, 1998

Algérie : la parabole de Saïd, Canal+, 1997

24 HEURES, nombreux documentaires, dont "La révolution Roumaine", "La guerre du golfe", "l'Opéra Bastille", "Las Vegas" CAPA – Canal+, 1989 – 1996

CNN : la guerre de l'info, M6, 1995

Russie : l'usine pour les yeux du Pr Fyodorov, Prix de la CTF, Communauté des télévisions francophones, Canal+, 1990

Les enfants de la Foundation for Hospital Art à Moscou, Prix AGENA du meilleur reportage humanitaire, Canal+, 1990