Journalist, Film director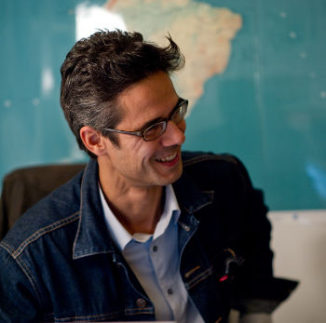 Paul Moreira starts his career in 1985 at Radio France Internationale and soon becomes independent international reporter. In his early years, he covered the Romanian revolution, the end of the Sandinist regime in Nicaragua, favelas war in Brazil… Immerged within the local people, sharing their daily life, he develops an "undercover" style.
After four years working at CAPA TV press agency, he joins French network Canal + in 1999. There he creates and co-anchors with Luc Hermann the investigative programme 90 Minutes on French network Canal+. The programme focuses on international controversies, wars and conflicts, multinational corporations, health stories, as well as covering political stories in France. It played a key role in the emergence of a new investigative journalism in France.
In 2004, with Luc Hermann, he launches a freedom of information act (FOIA) campaign to lobby French politicians. The "Liberté d'Informer" campaign has organised numerous debates at universities and at the French Natioanl Assembly, and received the support of hundreds of French journalists, elected officials, lawyers. To date, more than 6,000 signatures have been submitted to the campaign's website, www.liberte-dinformer.org.
In 2006 Paul Moreira quits Canal + and founds Premières Lignes. His first self-produced documentary "Iraq: a nation's agony" is awarded at Montecarlo International TV Festival and at FIGRA film festival. The first film of a long series of stunning investigations in conflict zones in Somalia, Afghanistan, Palestine, Egypt, Syria…
In 2009 he is joined by Luc Hermann, his former colleague on Canal + and then in 2011 by Laurent Richard from CAPA agency. Gathering a dozen of investigative journalists from different backgrounds, Premieres Lignes creates new narratives and challenging approaches.
Within less than five years, Premieres Lignes has become a major defender of investigative documentary at a European level.
In 2014 on his initiative, Amnesty International and the FIGRA film festival created the Impact Prize, awarding a film for its concrete effects on the civil society.
Sheding light on GM-crops and Monsanto herbicide devastating effects, his latestet exported film Transgenic Wars has won multiple awards in several prestigious festivals. His interview of a pro GMO lobbyist has been buzzing on Youtube.
International filmography
2014

Transgenic Wars (52′)

Selected at Cine Eco 2015 (Seia, Portugal)
Special Prize at DIG Awards 2015 (Riccione, Italy)
Best film at FICA 2015 (Goias, Brazil)
Best investigation and Public Prize at FIGRA 2015 (Le Touquet, France)
2007
2005

Palestine, the Power of the Armed Rebels
Gaza, the Secrets of Wars Shattered